Harlequin / Merle Miniature Pinschers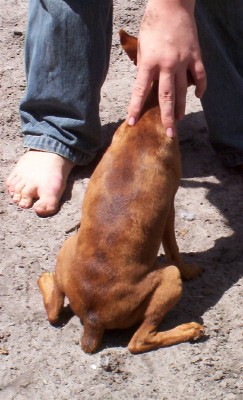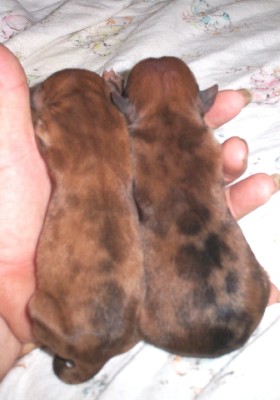 The Harlequin Pinschers native land and place of origin is Germany.  The first German documentation for the Miniature Pinscher was established in 1880.  The first Breed Standard was established in 1895 by the Germany Pinscher Klub now called the Pinscher-Schnauzer Klub.  The colors listed were Red/Yellow, Gray-Yellow, blue/tan, Black; Gray like iron or Silver Gray, either one color or with yellow-brow or light red marking at the eyes, muzzle and legs.  Of one color, blond, or dirty gray-white or white with black spots.   In my personal opinion of the standard I see this as being, Chocolate/Tan being the Red/Yellow with marking.  Gray-yellow would be Fawn/Tan.  Black is self explanatory, Gray like iron or Silver Gray would most likely be the Blue version.  The blond would be Red, Dirty Gray-White would most likely be Merle/Harlequin and my guess is that the white with black spots was the Double Merle version of the Harlequin or it could be possible that at one time there was actually Piebald in the breed as well.

The Harlequin Pinscher was the merle variety of the Miniature Pinscher that first appeared during the late 1800s.  It's true origin is unknown as at that time the merle coloring did not occur in any terrier breeds thus making the Merle Pinscher and later known as the Harlequin Pinscher the first Terrier breed to come in the Merle pattern. It is thought that small sized Pinschers were probably crossed to either some breed of merle hound or merle herding dog resulting in the merle Miniature Pinscher.  The true origin however is unknown, as I previously stated, as little to no documentation was kept on the development of the breed and will assuredly remain that way.  Just as the merle coloring was a variation from the normal Miniature Pinscher so was their temperament as they are more laid back and are not as suitable for use as Ratters as are the other variety of Miniature Pinscher.

In the 1920's the Harlequin version of the Miniature Pinscher became part of a controversial subject in the German Miniature Pinscher Breed Club and was unfortunately removed from the German Breed Standard and was forced to start their own breed, which became known as "Harlequin Pinscher".

The Original Harlequin Pinscher breed standard established in 1923 called for it to be 12-14 inches tall being 22-26 pounds in weight.  The color variations were Harlequin on a white, gray or black background having a black or self-colored nose according to coat.

Some early breeders of the Harlequin Pinscher however were unaware of the genetic makeup of the Harlequins and the gorgeous but semi-fatal status of the Merle gene.  Over a period of years the dogs became decreasing in number due to hereditary defects. 

The American Kennel Club allowed the first registration of a Miniature Pinscher on March 31, 1925, which was an imported one from Germany and was listed as being "black, red, brown".

The Miniature Pinscher Club of America, Inc., was formed in 1929 and became the AKC Breed Club for the Miniature Pinscher.  Prior to the formation of the MPCA the Miniature Pinscher was shown in the Miscellaneous class but was changed to the Toy Class.   

A foursome of Harlequin Pinschers was shown at Crufts in 1938.

One breeder in the United States was known to of bred Harlequin Reh Pinschers in the "Black & White" variety as late as 1940. 

It has been said that there were Harlequin or spotted variety and some Brindles still being bred in or around Karlsbad, Austria, Hannover in North Germany and in Wurttemberg in South Germany as late as the 1950's.

Sadly due to the lack of knowledge about the merle gene these dogs are belived  to be extinct.

Edited text By:  Nancy Anderson

All rights reserved by copyright law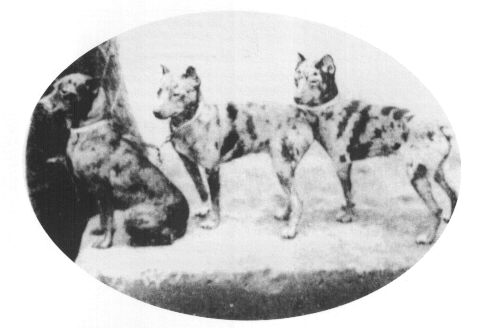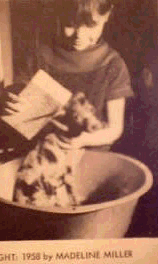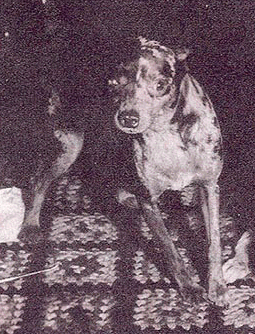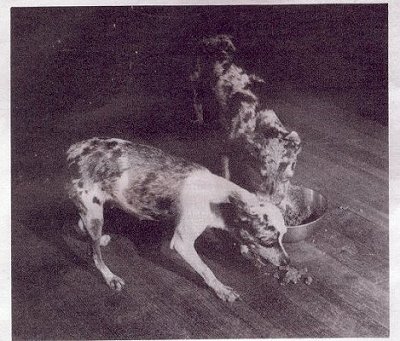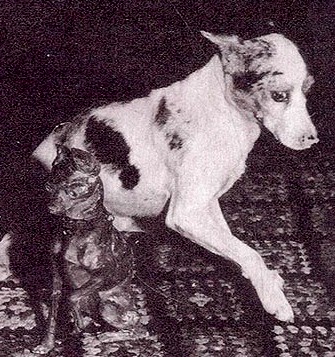 OLD  PHOTOS Of  HARLEQUINS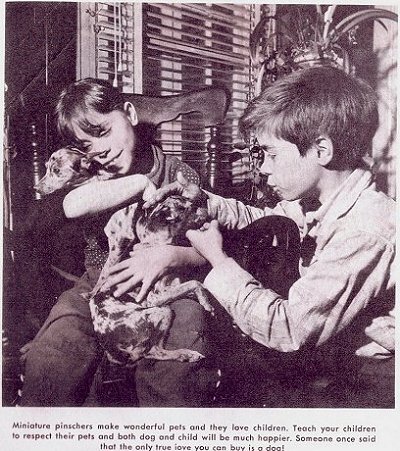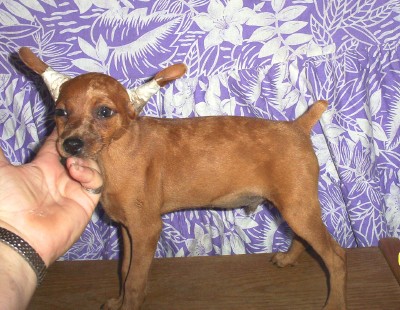 Run-N-Ridge started years ago to revive the pattern and succeeded in 2006 of registering the first PUREBRED Merle Miniature Pinscher & Harlequin Pinscher since 1950.

The MERLE Miniature Pinschers are registered as "Harlequin Pinschers" but they MUST only be bred back to Miniature Pinschers.

American Canine Registry accepted into its sister registry, American Pedigree Registry, the first documentation to the re-development of the Merle Miniature Pinscher for pedigree documentation only in 2004.  The requirement was that a one time cross could be achieved with a Merle Rat Terrier of superior quality and health and the Merle offspring from that cross was to continue the development by being bred only to Miniature Pinschers and upon 7th generation they would be accepted as purebred Merle Miniature Pinschers with documented lineage.  Many years before 2004 a trio of elderly ladies had already done the Merle Rat Terrier and Miniature Pinscher cross and had already established several generations of Merle Miniature Pinschers that became later classified as F-series (*i.e. F1, F2, F3, F4, F5, F6) Miniature Pinschers in the Merle pattern.  Nancy Anderson was able to trace these dogs lineage back with enough documentation to get them accepted into the foundation lineage and go from that point forward to where we are today with not only MERLE Miniature Pinschers but Harlequin Pinschers as well.  Nancy Anderson not being one to stop once one goal is achieved decided to take the next step and petition ACR for a Harlequin Pinscher breed classification.  Due to the limited number of Harlequin Pinschers and the sure re-extinction of the breed associated with the Merle pattern however she was denied the request.  In 2007, Nancy Anderson had worked out what she felt were the objections for the refusal to re-establish the Harlequin Pinscher breed classification and once again petitioned ACR for breed designation approval with the organization of a Harlequin Pinscher Breed Club which would document more of the one time Merle Rat Terrier - Miniature Pinscher crosses and begin a program of documentation for the F-series hybrids.  After much debate and reorganization on both parties a YEA Vote was achieved and the Harlequin Pinscher Association, now known as the HPA was officially formed on October 19, 2007 with the FIRST Harlequin Pinscher officially being registered as "Run-N-Ridges Ole Time Revival N Mayhem" which had already achieved his Grand Championship status earlier in the year as a Merle Miniature Pinscher establishing his Superior Quality for being an excellent representative of the breed in which to continue the production of the Harlequin Pinscher.  The first F1 dam being credited for the beginning of the revival of the Merle Miniature Pinscher or Harlequin Pinscher was appropriately called and registered as "Allie Oops" being a Chocolate/Tan Merle with the registration number of 488-591-0104-F1.

The HPA will accept for lineage documentation and registration "FOUNDATION" stock for the advancement of purebred Merle Miniature Pinschers known as Harlequin Pinschers.  The HPA allows a documented one time cross with a Merle Rat Terrier of superior quality and health to be used with a purebred/documented Miniature Pinscher to produce Merle offspring which is to be known/documented as F1 Harlequin Pinschers.   Each succeeding MERLE generation becomes F2, F3, F4, F5, F6 and an F7 becomes what is known as a purebred Harlequin Pinscher.  The HPA rules are VERY STRICT and are to be abided by and WILL BE UPHELD WITHOUT EXCEPTION whereas ONLY 1 PARENT may be Merle and ONLY 1 PARENT may be of the F-hybrid Merle variety with the subsequent parent being that of a Purebred Miniature Pinscher of the NON-Merle pattern.  It is important to keep in mind that with this program ALL offspring of Non-Merle status is lost to the program and is considered a cross-bred animal.  Only those who are genuinely interested in the revival of the Merle Miniature Pinscher or Harlequin Pinscher should take on the endeavor, as it is without doubt a very costly and time consuming one.  ACR will be the parent club for HPA with HPA being the Harlequin Pinscher Breed Club for ACR.  ACR will be responsible for the distribution of papers while a 5 person board has been established to review the REQUIRED pictures that MUST be submitted with the proper fees in order to REQUEST "FOUNDATION" registration of a Merle, Class A, Rat Terrier of Superior Quality and Health into the HPA database for breeding purposes.  HPA will remain an open registry until the time at which a minimum of 1500 dogs have been registered as an F6 and no less than 100 different Foundation Sires with no less than 10 F6 prodigy are recorded.

Edited text By:  Nancy Anderson

All rights reserved by copyright law

These puppies color came about by breeding a Rat Terrier to a Miniature Pinscher and breeding that offspring to a Min Pin and so on & so on, above puppies are  9 gen away from the Rat Terrier.  

©2002- 2009

All Rights Reserved.

Unauthorized duplication or distribution is strictly prohibited. Pictures are protected by Copyright Law.  

These pictures are for your viewing pleasure. 

They are NOT to be copied and/or used elsewhere. 

Any violation of this law will cause legal action to be initiated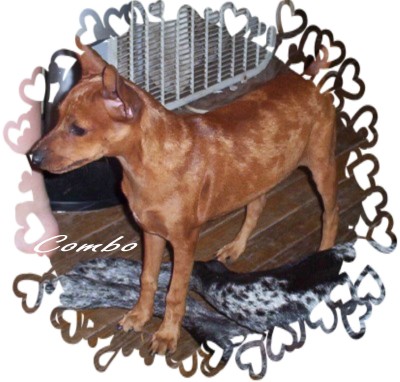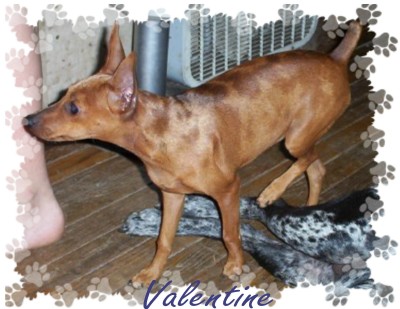 PLEASE DO NOT LINK TO THIS PAGE WITHOUT PERMISSION

Copying, Linking or using this page for any purpose is forbidden without written consent.

Here are few pictures of Miniature Pinschers in color's that aren't seen everyday.