M&M Pinschers past puppies

Click inside this text box and type your own text here!

To change the shape of the Border Element around this text, click on the border itself and then drag the corners to resize.

©2002-2010

All Rights Reserved.

Unauthorized duplication or distribution is strictly prohibited.

Some of our puppies in their new home's.

Enter more text here!

To add more text boxes to your page, use the "T" (text) button on the toolbar above, or click on the Text icon in the Element Palette to your left.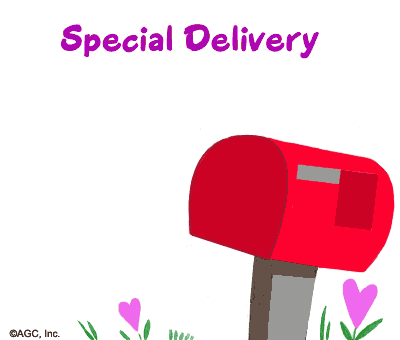 M&M Pinschers past puppies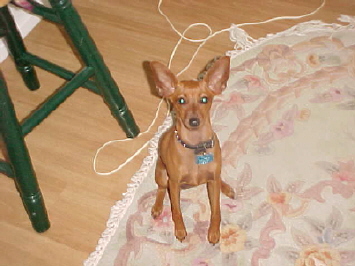 She now live's in Panama City,FL.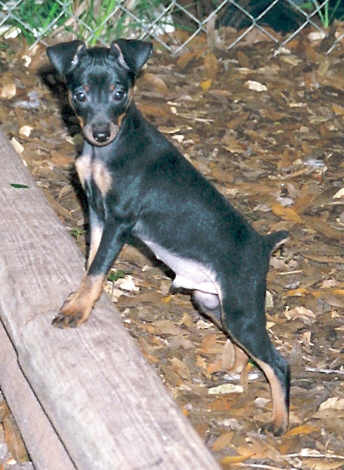 He now live's in

Pinellas Park, Fl.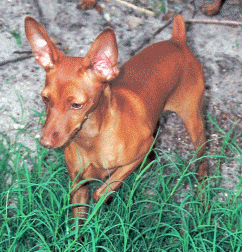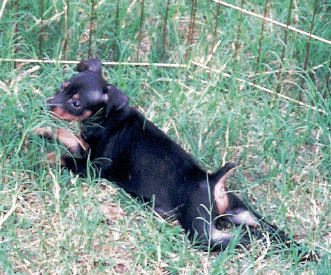 Kissimmee, Fl.

Just a quick note, Rolo was killed last night whilst out walking. He was hit by a car and killed instantly. We are now a very sad household, and wish to thank you for the past two years of great joy.

Graham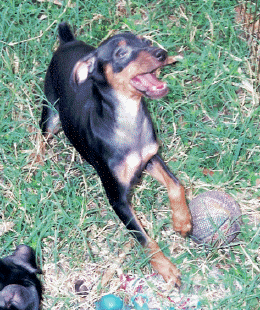 She now live's in

Tarpon Springs, Fl.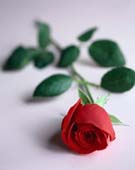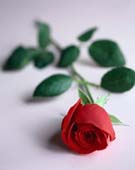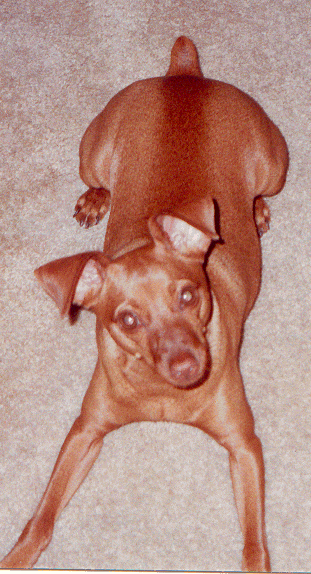 Updated picture of  Bo.  6-22-02

He just loves his new home and they just love him.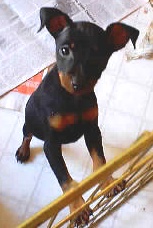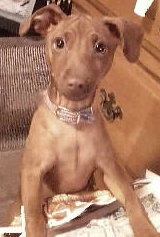 Sharon,

Hi!! How are you doing?  

The girls are doing wonderfully!!!  They are just too cute for words.

I can never thank you enough for bringing such joy into my life. 

Hope to talk to you soon!  The girls send their love too!!!! ~Elizabeth, Jeremy, Gina and Ginger~

Hi! Yes, Bo is doing great and I love him to death. I just got his rabies

shot and the Vet said his is very health. He weights 10.1. Very smart dog. It

was a very good chose (Bo). I will send you a picture I just took two or

three today.

Jack

Hi,

Well you were very right about Scarlett loving water. She plays in her water bowl constantly, my kitchen floor is always soaked. I took her with me to my mothers house to go swimming this past weekend and she absolutly loves it. She'll even try to swim in the tub if you let it get a little water in it. She crys every time I take a bath if I don't let her in with me.

Have you found a home for her brother yet? A girl I work with didn't realize that I had her and was going to buy one out of the pet store in the mall until I told her about your beautiful dogs. I gave her your website to contact you.

Hope all is well your way.

The hardest thing in life is deciding which bridges to burn and which ones to cross.  Misty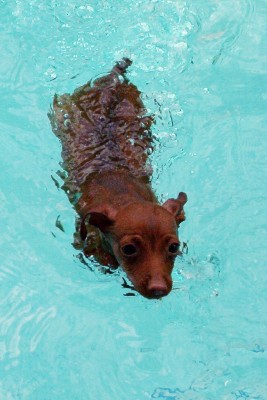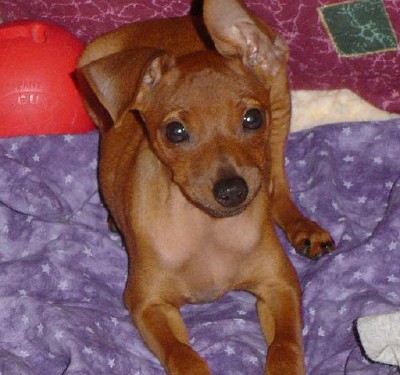 Hi Sharon!  Happy belated Mother's Day!  I just wanted to give you an update on Whitey. We've changed his name to Spike. He's starting to respond  to his new name.  He is doing just wonderful!  He slept a lot the first day but then really started getting playful in the late afternoon.

He's been going to the bathroom right on the newspapers from day one. That

shows us how well you were housetraining him. Thank you!  He's only had one

accident so far. On Sunday he was a lot more playful and he sure has a lot

of energy. When he naps, he loves sleeping right on our chest on shoulder

with his nead right on your neck. It is just adorable. He is such a loving dog. I've taken a lot of pictures which I will send you some this week when I get around to downloading it to the computer.

(email edited)

Jen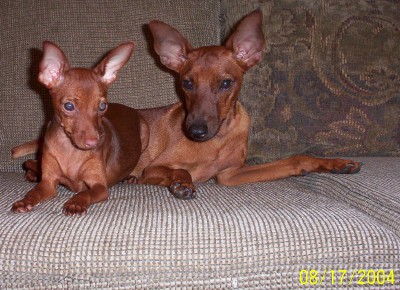 Here's some new pics I took last night of Doobie and Scarlett. Doobie is such a ham, he sees the camera come out and he stops what he's doing to sit pretty for me. Scalett treats Doobie like he's her personal jungle gym, she climbs all over him, and he just lays there.

Sharon,

  This is Rochelle's husband, Joe, and I just wanted to send you a note telling you how happy we are with Monty (AKA Mr. Happy). Of course, the first couple days with him were confusing, both for us and Monty, but we've seen him adapt very well to his new environment.

  While Rochelle has had an extensive background with dogs, specifically German Shepherds, mine is limited to a Saint Bernard my parents just recently obtained and the sheer size and prospect of their needs had me somewhat overwhelmed and concerned when Rochelle first mentioned getting a dog of our own.

  We were warned many times about the supposed vicious, snappy nature of Miniature Pinischers and I was tempted to believe this after many run-ins with the full size Doberman variety (which I have since learned is of no relation) and  I feel obligated to thank you for providing us with such a well mannered pup that is nothing but friendly to all comers and has not, on any occasion,  shown any tendency toward "visciousness or snappiness". Many of our friends have small children and this was also a concern of mine that Monty has completely disproved as he shows nothing but affection and protection to our many small visitors.

   Monty has become a source of pride for us as we watch the unruly  nature of many of our peers canines and the "other" dogs inability to comply with requests and conduct themselves as gentlemen. Monty's truly, to us, a blue blood and your ability to breed a quality dog, with spunk, pep, and friendliness is obviously a gift.

   I now catch myself frequently reccomending Min Pins to my friends in our dog related conversations and feel I would be hard pressed to find another dog that could come close to meeting Monty's qualities.

Thank you again,

Joseph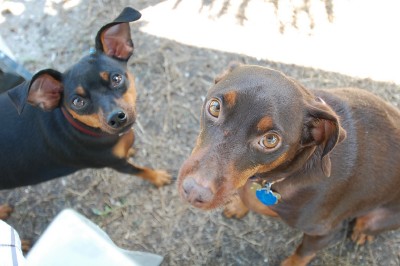 Sharon,

Here is Bubba, I can't begin to tell you what a joy both of them have been in my life.

Wendy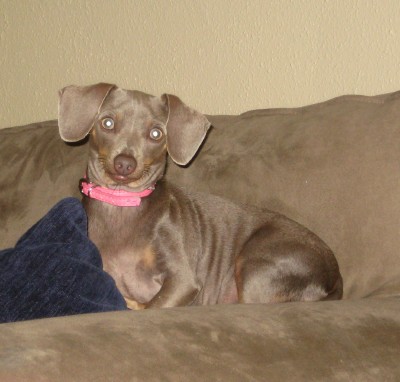 Sharon

I just wanted to let you know sweet pea (Princess) is doing great!!!! We all love her and she is making herself right at home. She follows me everywhere I go and is just so sweet....here is one pic of her from last night.  We just love her to death!

Thanks again

Nancy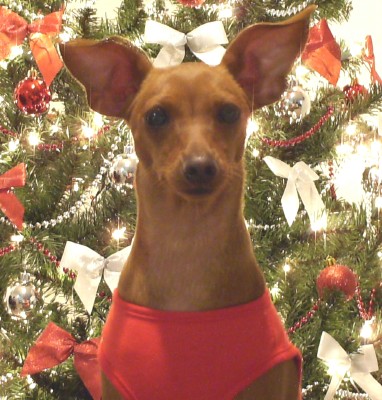 Sharon,

Happy New Year! We're wishing you a Happy, Healthy, and Prosperous New Year!  Holle's doing very well.  [ edited ]

This was the picture for our Holiday 2009 card. We got so many compliments from our family and friends on what a beautiful baby we have.

On Christmas day Holle finally lost her last baby k-9. Yay! We've discovered all natural healthy hide chew sticks, wow what a difference. They keep Holle entertained for hours in her bed next to my feet while I'm on the sewing machine.  [edited ]

I can't thank you enough for bringing her into our lives and our  home. We can't imagine our lives without her now that she's here. Holle is a very active dog. We have a great time rollerblading with her too, she's pretty fast that we're always trying to stay caught up to her. At the dog park, she makes many friends because she usually is the fastest dog in the  medium dog park that all the dogs just want to run and play with her.  At our last vet visit Holle weighed almost 9 lbs and is in excellent health.  [edited]  We hope all is well and will stay in touch. We viewed the site today and wanted to say congrats on the new babies. Maybe when Holle is a bit older we'll add  another fur child to our family. Till then we'll give all our love to our beautiful little Holle.

(email edited)

-Hilary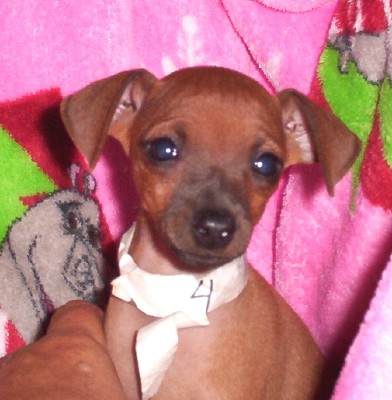 Hi Sharon

She is adjusting well and is making us all laugh with the way she loves to play, she is so loving I will keep you updated with how she is doing and send you pictures.

Thanks Pamela 

(email edited)

She now live's in Ottawa, Ontario, Canada